Is Riverdale a real place? While some towns like Forks, Washington from Twilight are real, others are completely fake (like Stars Hollow from Gilmore Girls. The fictional town of Riverdale that you see on The CW television show Riverdale, however, is a little bit of both. Let's break it down.
Is Riverdale a real place?
If it's real in your heart, it's real IRL. Just kidding. Riverdale (and all its drama) is super fictional. And aren't you kind of glad? I'd rank Riverdale up there with Rosewood from Pretty Little Liars as one of the most unlucky towns. But just because it's a wild place, doesn't mean it doesn't exist anywhere. First, let's think big-picture. Obviously, Riverdale is in the United States because it features classic American things and all the accents are American.
So, where in America? Creators of the comics John Goldwater and Bob Montana have both said that the idea for Riverdale came from Goldwater's hometown. He had fond memories of growing up in Hiawatha, Kansas.
In Season 1 of the hit show, Josie from Josie and the Pussycats says that they won "Rockland County's Battle of the Bands." Rockland County is a real place in upstate New York. Later, FP mentions that the men in his gang were from "north" in Montreal. That's the Canadian province located directly about New York State. So, it's possible that in the TV show, the town is in New York.
There are two real-life places called Riverdale in these areas. One is in New Jersey and the other is in the Bronx, a borough in New York City. The latter Riverdale isn't that far from Pelham, where Archie Comics headquarters is located. However, it's just a neighborhood in a big city, so it's nothing like it is in either version. Riverdale, NJ is near Rockland County, but isn't that far north, which makes the references to Canada confusing. As expected, there's no perfect real-world equivalent.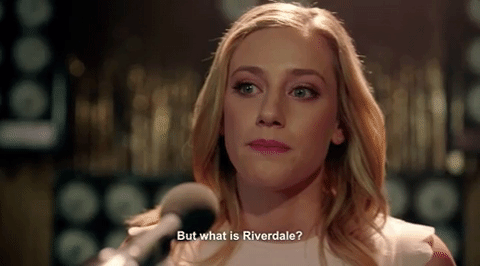 Cole Sprouse puts it best: "The setting is supposed to feel dreamlike." The town isn't just one place because it can be anywhere. It can even be your hometown. Although there may not be an exact copy of Riverdale somewhere in the world, it exists in different forms everywhere.
Where is Riverdale filmed?
As mentioned, Riverdale films most of its shots in British Columbia, Canada. Some of the scenes at Riverdale High School are actual schools in Vancouver. So, it's totally possible to go around Canada checking out the places the TV show filmed.
For example, if you want to take a dip in Sweetwater River, you can go to Alouette Lake at Golden Ears Provincial Park in British Columbia. Hungry? Grab a bite at Pop's Diner, also known as Rocko's Diner in Mission, British Columbia. They sometimes have Riverdale themed events, too!
What time period is Riverdale set in?
Speaking of the diner, isn't there something off about it? Riverdale has a slightly retro feel despite being modern in all the important ways. There are TVs, cell phones, and laptops, but everyone is dressed like they stepped out of Grease.
There's an important reason for that! Cole believes that it's a callback to the golden age of America and supposed to feel like its a perfect little small town. That's what makes it so shocking that all these horrible things keep happening. Plus, Archie and the gang made their comic book debut in 1941, which is right around the era the show references. It's a super cute homage to the characters that started it all.
Love Riverdale? Be sure to join our Riverdale Facebook group to continue the conversation.
This story was originally published on October 22, 2017
Watch: 5 Facts You Didn't Know About *Riverdale*
Love J-14? Be sure to subscribe to our YouTube channel for fun, exclusive videos with your favorite stars.