Updated: Dec 5, 2017 9:35 am
Can't get enough of the Descendants Villain Kids? Same. It's getting harder and harder to wait for a Descendants 3 announcement, especially after Descendants 2 left us with a major cliffhanger. In case you want to watch the movie musicals in full (we, for instance, need to stop rewatching the same YouTube videos over and over again), there are some options. Here's our guide to where you can watch the Descendants movies ad nauseum.
Is
Descendants

on Netflix?

Hate to break it to you, but the movie musical isn't on everyone's favorite streaming platform. Disney has slowly but surely been moving its movies and TV shows from Netflix to their own app. In August 2017, Disney announced that they plan on removing all their movies from Netflix to launch their own totally new streaming service in 2019. Of course, it would be amazing to have these awesome movies where your other favorite TV shows are, but if you're a total Disney lover like us, then you'll probably obsess over the next best option – DisneyNow!
Is
Descendants

on DisneyNow?

The DisneyNow app is basically kind of like Netflix except it's all things Disney Channel, Disney Junior, and Disney X. As if we needed another excuse to watch Teen Beach 2 over and over again now that it's left Netflix. It's not just movies, either. You can binge watch your current Disney Channel faves like Andi Mack or an oldies like Jessie.

If you don't want to download the app or don't have the right device, Disney also offers an option for you! Their website, Watch Disney, is full of Disney Channel shows and movies. Although the first Descendants movie is no longer on the platform, they have Descendants 2 available for streaming.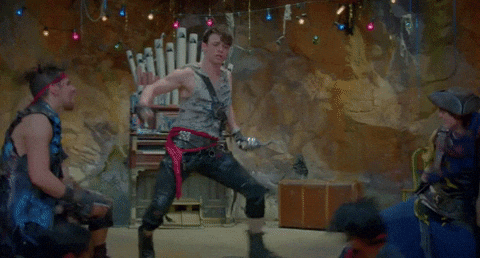 Is
Descendants

on Hulu?

While the Disney Channel streams some shows on Hulu, including Good Luck Charlie and Austin & Ally, the Descendants Disney Channel Original Movies are not on the service. But, hey. There are other options!
Where else can I watch
Descendants

online?

It's possible to rent or buy both movies on [Amazon](http://amzn.to/2BMVkpx! Then, you could always relive the magic of the Isle of the Lost. YouTube also allows you to purchase either Descendants movie and view it whenever.

If none of these options tickle your fancy, there's always the old-fashioned way. Check your local listings to see if there are any upcoming showings of the movies on Disney Channel. There's always repeats of movies or shows on TV, especially one as loved as Descendants.

Watch: J-14 Interviews the Descendants 2 Cast and Crew at the Red Carpet Premiere
Related:
Wig Suggested, Tentacles Optional — How to DIY Your 'Descendants 2' Costume This Year
Mal Legit Has Crazy Chemistry With Everyone in 'Descendants 2' and Now We Can't Unsee These Pairs
Is 'Descendants 3' Happening? The Cast Weighs In On What's Next